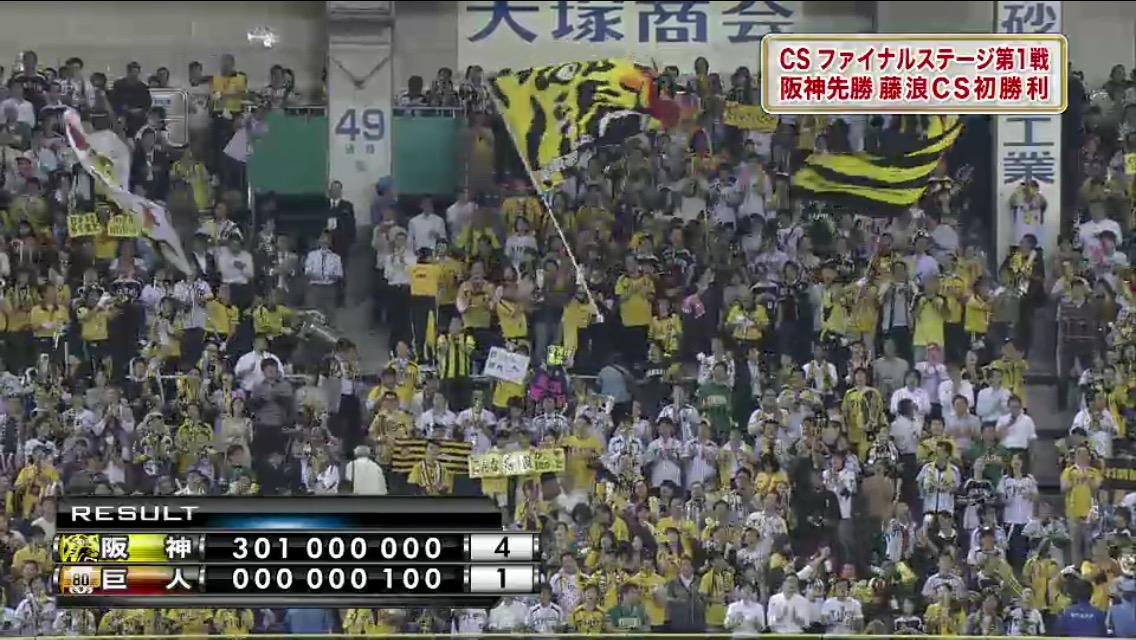 Eight pitches. That's all it took to bring the Tigers bats out of their postseason slumber. A leadoff hit by Nishioka, sacrifice bunt by Uemoto, RBI double by Toritani and a 2-run HR by Gomez put the Tigers in the lead — one they would not relinquish all night as they cruised to a 4-1 victory against the Giants, turning the remainder of the playoffs into a true best-of-5.
Starter Shintaro Fujinami pitched six masterful innings, allowing just 2 hits and silencing the Giants bats. He was allowed to stay in for the seventh, and gave up hits to the first four batters he faced, including a leadoff home run to catcher Shinnosuke Abe. Fortunately, he got out of the jam with a 3-2-3 double play and a pop up, and the score remained 4-1 as he took a seat for the night.
One bat the Tigers were counting on to catch fire — Mauro Gomez's — did exactly that, as he knocked in two runs with his first swing and another with his second swing in the third. The home run was his first career playoff home run and broke a 26 at-bat drought.
For his efforts, Fujinami was named the hero of the game. He commented, "I wasn't able to contain the Giants in the regular season, but I'm just glad to have been able to help us get a win tonight." Helping him out were relievers Fukuhara, Takamiya and Oh, who picked up his second save of the postseason as he was just a plunked batter away from pitching a perfect ninth.
Game 2 goes tomorrow at 6pm at the Dome. Look for the starters to be Minoru Iwata and Hirokazu Sawamura (still not confirmed). The Tigers are hardly in the clear, as they still need to win 3 of the next 5 to advance to the Japan Series. Still, this first game was a must-win, and they came through. Expect a more resilient, determined Giants team tomorrow. No holding back! Go TIGERS!